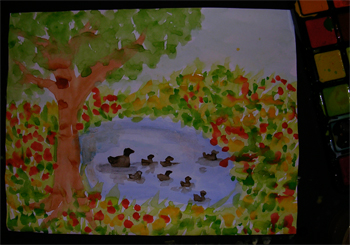 Sorry, I am late on this one. But here it is and the effect is very nice. This can be done with a wide variety of styles and works for children from age 3 to teens.
Materials:
paper (just the regular printer paper is fine)
watercolor paints
brushes
cooking spray (like Pam)
Directions:
1. Paint a picture using the watercolors. It can be whatever subject your artist chooses.
2. After the picture has dried, spray it with the cooking spray and wipe off any excess.
3. You can make a frame out of cardstock, fun foam, or ribbon (I think ric rac would be adorable.) I made mine with 8 strips of construction paper which I glued to the edges of the paper on both sides. It is a little tricky to get things to stick; so use plenty of glue and overlap the edges so that the frame paper (or fabric) can adhere to itself too.