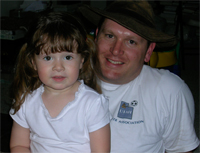 Well it is my wonderful husband's birthday and I have spent all day trying to decide how to write a post for him without getting too mushy. Well, needless to say, it probably is a lost cause! I decided to give into the mushy-ness. So here are the top 10 things I love about Mike (in no particular order):
1. Let's just get it out of the way right now: He is good lookin'! After 10 years together, he is still as studly as that first time I saw him walk into the cosmetics department to pick me up for our first date. (Which was actually on his birthday in 1997.)
2. He is SO smart. I have always been wowed by his mental prowess–from when he would explain class discussion topics (He's a Mechanical Engineering grad.) to how compile a kernel..the guy is plentiful with the gray stuff!
3. Relatedly, he can figure anything out and therefore can fix anything. It is awe-inspiring and more importantly, very VERY useful!
4. He is a very cute Daddy! As soon as he gets home, the girls flock to him. And I can't blame them, there is nothing as fun as being with daddy.
5. He really takes care of us. I know it is a high priority for him to keep us taken care of in all senses, which is no small job.
6. When he gets excited about things, he gets this cute little boy look on his face.
7. He can tie a lot of cool knots (Scoutmaster extraordinaire–which is also impressive, but for different reasons.)
8. He's athletic (which I envy) and very muscley, which I highly enjoy.
9. He is passionate about the things he chooses to do. I love to hear him talk about whatever new project he is undertaking; from an affiliate site (my husband can talk shoes better than me!) to photography…or more recently, Facebook apps (wink).
10. He is a really good person. In all aspects of his life, he demands the best from himself. Spiritually, he always strives to be the very best he can. At work (or when working on something), he gives every project 100% when others might cut a few corners. Even in his pictures (he is a great photographer), he looks for the perfect light, crisp images, good subject balance…etc.
Okay, it is not easy, but I am stopping here. I know he will already be embarrassed and you guys have been patient enough with me; so let me just say: Happy Birthday, honey. I love you and feel very lucky to be your wife!