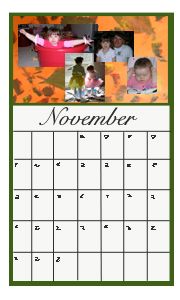 Looking for a great gift for Grandpa and Grandma? Why not put your kids to work making them a fabulous calendar starring your family? Depending on the age of your kids, it can be little to no work for you. But no matter the work involved, it will certainly be a hit with the Grans (and fond aunties, etc. etc.)
Materials:
pictures of your family
your kid's artwork
paper(I like legal sized for this.)
(a computer will be helpful, but not necessary.)
Directions:
1. First, you will need to decide how to layout your calendar. I chose to use legal size paper. I made my calendar about 2/3rds of the layout (I know that my Mom likes to have plenty of space to write in her events.)
2. You may want to print out the calendar from your office program, but your child could also draw one with a ruler.
3. Now put together the decorative part. I used Megan's paintings as a background and then chose snapshots to lay on top. You can do whatever, make it as simple or complex as you want.
4. Take it down to a copy center. and make a color copy of each page. (This allows you to distribute copies to any family members you like. It also makes a cleaner version and is easier to print the pages on the front and back of th paper for less bulk. However, you can certainly skip this step if you wish.)
5. They can also add a spiral binding at the copy center or you can pick up a few ring clips at an office supply and punch holes in the top of the calendar. Another option is to stack the pages and fold them in half; then staple. Punch one hole at the top and bottom of the pages to hang the calendar with. Get creative, take a look at several different calendars and find a method of binding it that best suits your design. Have fun, pretty soon you will have a great gift!