This is a great low-budget activity that I recently did with a group of girls 8-11 years old–they LOVED it. Megan helped me make my examples, it would be cute to use some of your child's drawings instead of a printed paper. There are several well respected artisans out there who have made a living from fashioning trinkets out of paper. Experiment with several types of paper. Scrapbooking papers work great, but so do labels, cartoons, newpaper, etc. If you really want to go crazy with it, you can get earring parts, clasps and other findings at a craft store to finish off your pieces. You can glue buttons and beads on, as I have, but paper string and glue are all you really have to have to make some fun jewelry. Try experimenting with adding different things that your child likes. This is a great place to use some of that princess jewelry that has broken, but is too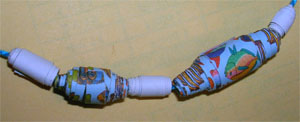 loved to be thrown away. (Yay for turning it into something new!)
Materials:
Paper (a variety of colors and prints)
Gluestick and/or tacky or white glue
Toothpicks (round work slightly better)
Embroidery floss (Yarn or string will work just fine too.)
Other embellishments, if desired
Directions:
For the paper beads:
1. Cut several long strips that are between 1/4″ and 1″ thick. I liked the look of making one end more narrow than the other to give the bead a step-like texture.
2. If you are using a strip that gets narrow at one end, start with the widest end. Wrap the paper tightly around a toothpick and continue to roll it until you have reached the end.
3. Glue the back side of the end of the strip of paper. (This is where I really like using glue sticks. You can be pretty generous with the glue and it will hold and dry quickly.) Now roll the paper completely up, pressing the seam to secure it well.
4. Slip it off of the toothpick and you have your bead. The longer the paper, the thicker the bead. You want to have the paper be at least a couple on inches long so that it is stiff.
For the flower bracelet:
This is where you can let your creativity run wild! I will give directions for the one that I made, but keep in mind that the sky is the limit. A similar style of bracelet would be cute with paper soccer balls. You could cut a 1″ band and use Velcro at the ends to make a bracelet. You can make a necklace by braiding several strands and lacing in paper beads or tying on some flowers. Just let your imagination go! Since you are working in paper, it is easy to start again if your idea doesn't work out!
1. I cut out several flower shapes and used tacky glue to glue a button in the center. (and a few beads scattered around.)
2. After they have dried enough to be moved, turn the flowers upside down and arrange them how you want them to be on the bracelet. Now coat the back of the flowers with glue and lay the strings over them however you want the strings to be. I tried to make it so each string was stuck to at least a few flowers.
3. Let it dry. I recommend spraying the finished bracelet with spray varnish. (Which is found in with the spray paint and is only a few dollars.) It will protect the paper and make it a little more stiff–as well as shiny!
If you make something fun, I would love to see pictures!