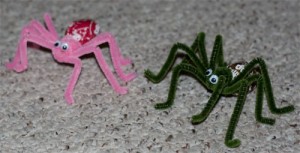 I saw something similar to these and had to make them for Megan to take to her class for Halloween. They only take a few minutes to assemble; and would be great for 5 year old+ hands to put together.
Materials:
(per spider)
sucker (I used Tootsie Pops)
4 pipe cleaners
googly eyes
scissors
glue (I used hot glue, but others would work as well.)
Directions:
1. Hold all 4 pipe cleaners against the stem of the sucker, right at the base of the sucker.
2. Leave the length of pipe cleaner desired for the legs of the spider on one side (about 3 inches) and wrap the other side around the stick until both sides are equal in length.
3. Pull the ends of the pipe cleaners tight. Then bend them upwards and into a 7 shape for each leg.
4. Cut the stick at the base of the pipe cleaners.
5. Glue on the googly eyes and get ready for some giggles.