The truth is that I can barely keep up with living my life right now, let alone writing about it. However, for some really sweet reason there are about 3 people out there who love to hear what I have to say. So here's a little taste of what we've been up to. Since I am so far behind (and trying to organize this somehow), so this time I'll catch up with Megan.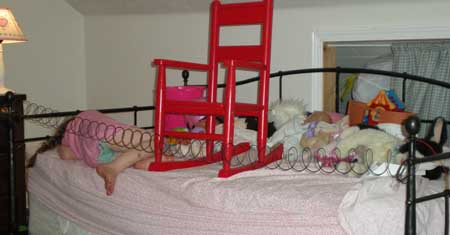 A little night owl, I often come up to find that Meg has piled her bed with toys.
I can't believe how fast she is growing up. She is always making new discoveries and doing little grown up things. The other day when I asked her what she wanted for lunch she told me she wanted hotdogs and pepperoni with cheese on top. (First thought, Eww. Second, Okay, it's her first recipe!) We made it and she ate it. It certainly wasn't the healthiest lunch, but I couldn't help but adore her the whole time.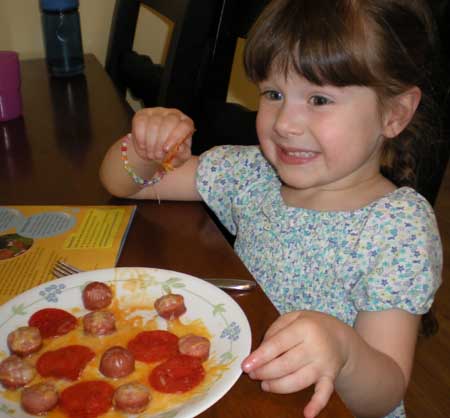 In May she had her first dance recital. There really is no other word than darling. She was so excited to "dance on the big stage." Every once in a while in the weeks before, she would say something like "Mom, do you think that when I am dancing up on the big stage everyone will say Look at that dancing girl, she is so darling!?" I couldn't help but smile. She didn't get nervous at all and loved all of the attention that Grandma Lu and Grandpa sent by way of a giant bouquet and Grandma Banana and Papa with balloons. I am sure it's no stretch to say she is a natural diva.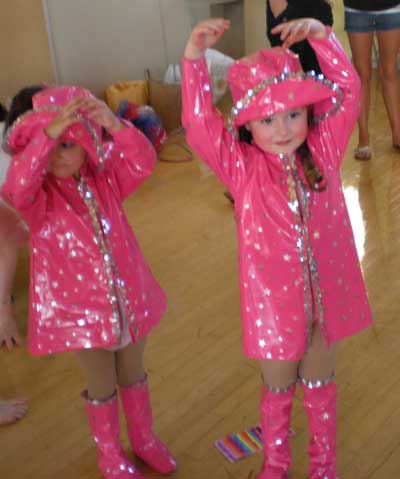 Megan also finished preschool. It was so sad to say goodbye to Miss Shan who is retiring this year. I can't believe I didn't get a picture for this. We'll have to get one, Miss Shan is nothing less than saintly around here.
About a week ago, Megan got her big bike. This was a huge event at our house. Mike spent weeks searching through catalogs and bike shops. They finally settled on this cute "pink bike with a bell!" She was beyond ecstatic when Mike brought it home. She has ridden it a few times without the training wheels, and is coming along great!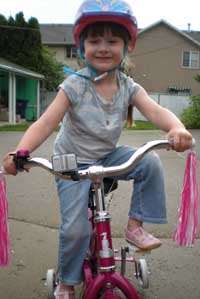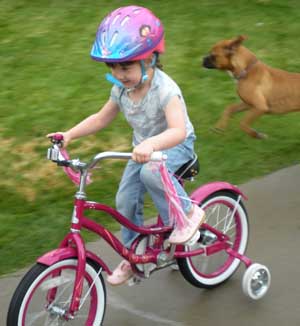 Last week, she started soccer again. She really gets in there and runs after the ball and almost made a goal today. She's doing awesome. It is fun to see her take more of an-ahem-interest in actually playing while on the field. ;D