It seems that March lion weather has set in around here. When it is stormy outside, nothing tastes better than a steamy bowl of soup. This is one of my favorites because it makes a generous amount, which can be used to make tamale pie a day or two later.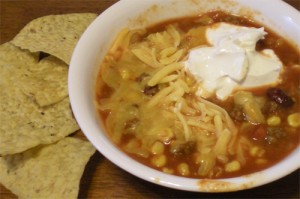 taco soup
ingredients:
~1 1/2 lbs. lean ground beef
1 small onion
1 (28 oz) can crushed or blended tomatoes
1 (15 oz) can kidney beans (undrained)
1 (17 oz) can corn (undrained)
2-3 Tbs. taco seasoning
2 cups water
tortilla chips
sour cream
olives
cheese
directions:
1.  Brown beef and onion and drain. Set aside half for use in the tamale pie.
2. Add canned ingredients and water. Bring to a boil and then simmer for at least 15 min.
3. Garnish soup with chips, cheese, sour cream and olives.
Okay, are you ready for this…another dinner that is super easy to throw together–heaven!
tamale pie
ingredients:
left-over soup
beef/onion mixture
1 pkg. corn bread mix, prepared according to directions
directions:
1. Prepare corn bread mix according to package directions.
2. Mix soup and beef in a smaller sized casserole dish. (If you are sparse on soup, you can add more beans. You could also add cheese if you like things extra gooey. I have to say, I like to keep this one pretty simple though.) Pour mix over the top and spread to cover evenly.
3. Bake at 375 for 30-40 minutes or until cornbread is set.
4. If desired, top with cheese, sour cream, and/or olives. I actually like this best just plain and simple….so good!