I think my life has gotten exponentially more crazy with each child. As I think about 2010; it feels like watching it flyby while perched on the edge of a merry-go-round. Not holding onto to the bar. Or the edge. And starting to feel a teeny bit sick. Okay, maybe not quite that bad, but just about. Last year, I made some great goals. This year, I am going to cut out a few things so that I can better keep those goals. (That's right. I am admitting that I didn't succeed very well.) This year I will:
Be a more sane mommy, breath and keep my temper in check better, be more understanding of the girls' perspectives, keep my home in better order, be fun.
Take control of my health/weight/tiredness. I am going to do this with measurable objectives (that you don't really want/need to hear about).
Scrapbook for the girls.
Send meaningful birthday cards to my family (maybe friends next year??) and thank you notes.
One major clean-out item in doing this is cutting back on blogging. Last night Emily kept begging me to take a picture of her baked potato that she had sculpted into a sundae. I realized that my photo folder is probably half full of pictures of food. I don't want my kids to think it that you are supposed to take pictures of dinner before you eat it. There are a lot of stellar food blogs out there. I don't need to post recipes.
I will still post projects and holiday crafts, but I will be posting no more than once a week. I know, no one is crying into their keboards about this; but I needed to put it out there to help motivate me to stick with it. I sure do love to read the many great blogs out there and share on my own, but I need to better focus where I spend my time. I was hit hard by another mom in my Relief Society who said that she is looking for places to cut back so that she can spend her time doing what is really important–teaching her children. She said this season in her life isn't about her, it is about them. I have been thinking a lot about this and looking for areas that I can work on this week. So far I am noticing a difference.
I have been having some fun too. If you made this far, I will share one of the little projects I did over Christmas –a mobile to hang over Amanda's crib, I love how it turned out. It is so airy and whimsical. I painted 4 branches and lashed them to form a frame, then strung wire from side to side (about an inch apart). Then used fishing line to string paper and vellum butterflies to the lines.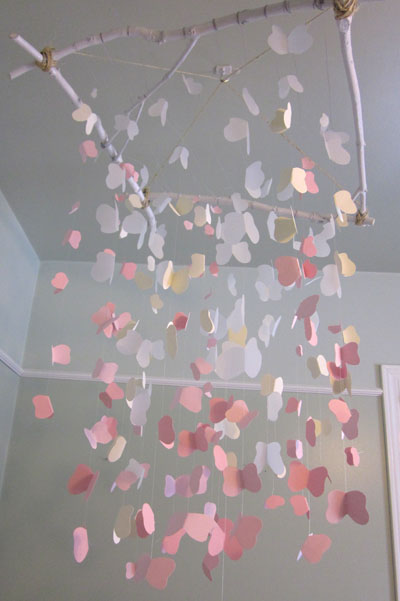 So what are your goals for 2011? How are you guys coming with your resolutions so far?