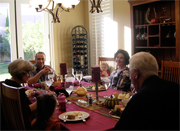 We had the Thanksgiving to end all Thanksgivings. Pamela went all out with the food–it was amazing! I know it sounds like I am gushing and I am; but let me tell you, this meal deserved it. She made an herb-brined turkey with cranberry compote and a fresh cranberry chutney, cornbread stuffing (ah, so good!), mashed potatoes and gravy, spicy ginger green beans, and (my favorite part:) Brussels sprouts with a caramelized pistachio sauce. For dessert there was warm "Indian

Pudding" with vanilla bean ice cream and (of course) pumpkin pie. (Martha Stewart, eat your heart out!) Speaking of eating…oh, I can only image the weight I have gained…I don't even care!
Today we had a blast at the Springs Reserve. It was so much fun (and even better, educational fun!) It is hard to explain, really. It is almost like a theme park centered around water and conservation. There are a lot of games and activities for the kids; Megan loved playing on the slabs of marble that float on a fountain over another marble base. It turned somewhat slowly on it's own, but you could push it like a merry-go-round. We also loved seeing the simulated flash flood and all of the cool metalwork around the complex. It was huge and so beautiful, especially the gardens feature the indigenous plantlife.
On the agenda for tomorrow: A haircut by my sis, some hiking, and a little ballgame between the good and the bad (the U and BYU…I will let you decide which is which.)