Remember me? Although I do miss my bloggy friends; my house has quite a bit cleaner since I made this resolution. So yay for that. I actually do feel a little more balanced and ready to post a few things. Which is great since Valentine's is one of my favorite holidays. Not because I am a romantic, but because we just make it a fun day for our whole family. More on that next week. In the meantime, I made these rolls from Craftykin the other night and had to share. They only took about a half hour from bowl to table and were so good. They are a little more dense than the usual yeast roll and have such a nice buttery flavor. (Um, I am sure the brushing with butter half way through baking helped with that; so "be bothered" as she so cutely put it.) They are the perfect go-to "I'd like to have rolls but don't have a few hours to rise them in" rolls.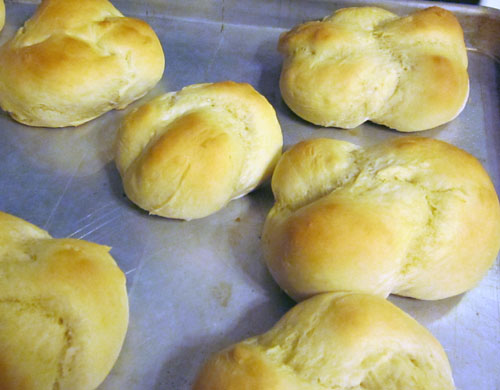 quick bread, buns or pizza base
(from Craftykin)
2 ½ C warm water
6 Tbsp sugar
3 Tbsp yeast
2 Tbsp oil
6 C flour (can use white or wholemeal)
2 tsp salt
1 tsp baking powder
Stir water, yeast, sugar and oil together. Leave for 5 minutes until it becomes frothy on top. Add flour, salt and baking powder. Mix well. Knead. Roll out if making a pizza base or shape for use as buns / bread / loaf. Paint with oil or milk (if you can be bothered). Bake at 400 degrees for 10-15 minutes.