It may not be lady-like, but I really love Brats. Of course, Michael is always thrilled when we have them for dinner. As far as I am concerned, there is really only one way to make them. This is it: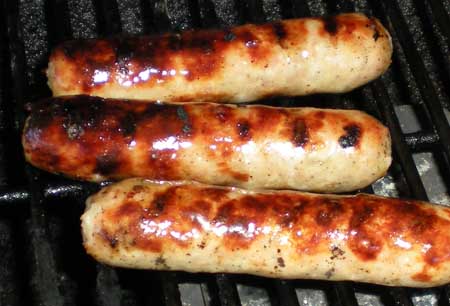 ingredients:
bratwurst (Don't be scared, they won't bite you. They're usually in the meat department. I recommend Hillshire Farms Stadium Brats.)
buns
onions, chopped
1 T. butter
sauerkraut*
mayonnaise
mustard
salad (You fix it how you like it.)
we did tots (alphabet tots–the girls loved them!) I would probably make wedges like these if I wasn't pleasing the tinies.
directions:
1. Get your potatoes in the oven.
2. Melt butter in a medium skillet. Chop onions (or, if you are a cheater like me, dump the bag of frozen chopped onions in a skillet.)
3. Light the grill. When warm, slap those babies on. (I eat one, Michael, two.) Turn heat down to low. Keep an eye on these, you'll want to turn them every few minutes and cook them about 7-9 minutes total.
4. Set out salad and condiments.
5. Spread mayo on the bun and add mustard. Nestle the brat in there and top with onions and a little kraut. You are going to love it.
*I know that sauerkraut sounds a little gross and wrong. But it is the necessary zing for the savory goodness of the brat. It took a little while for me to try it, but once I did, it really worked. Just try it!!! TRY IT!!! That is all.