I have to say that this humble dish is definitely one of my top comfort foods. I wish I could eat it right now, right this minute I tell you! It is easy, fairly quick and just so creamy and warm. Use skim milk and low fat cream of chicken soup to shave off some calories.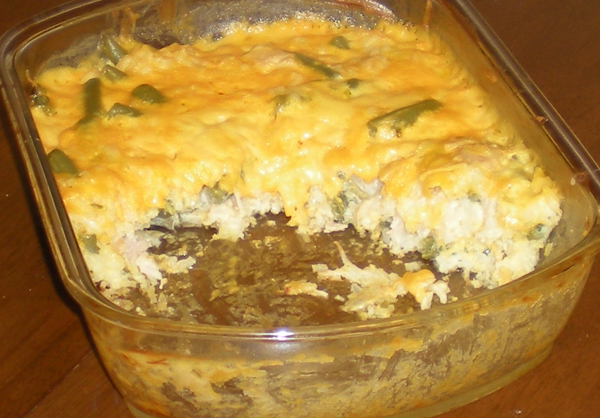 ingredients:
2 1/2 c. prepared rice (I like to use Jasmine rice–it tastes so good and cooks in 15 minutes.)
2 chicken breasts
1 can green beans
1 can cream of chicken soup
scant 1/4  c. milk
1 clove garlic
salt and pepper to taste
shredded cheese to cover the top (Sprinkle however much you need. I am going to be honest, I use about a cup. We really like cheese)
directions:
1. Prepare rice according to package directions.
2. Grill, bake or broil chicken. I like to do chicken breast for dinner one night and just cook a few extra for later use. For example, we'll have grilled chicken breast with baked potatoes and peas for dinner one night. I grill 2-6 extra breasts (I think there might be a joke in there.) Then dice them and throw them in the freezer. Then when I make this, I can just pull out a rounded cup of meat and throw it in.
3. Once the rice is finished, put it into a casserole dish with the chicken, beans, soup, milk, garlic and some salt and pepper. I also sometimes add a little lemon thyme if I have it. I LOVE fresh thyme–I use it in practically everything. Mix all together.
4. Top with cheese and cover with foil. Bake at 375 for 35 minutes. Uncover and bake another 10 minutes.
I like to serve this with one more vegetable or a salad and some fruit. It is so simple, but everyone in our family just loves it and it is perfect for a rainy day like today.