This is Mary Winter's recipe (as I remember it–so it's not perfect.) When I was pregnant with Emily, I craved this so much that I finally called and begged for the recipe. If you know Mary, you know you want anything she makes. (She is so wonderful!) This will generously fill 5 or 6 large croissants or about 10 small ones. It is ideal for showers and parties, but Mike doesn't complain about one for dinner either.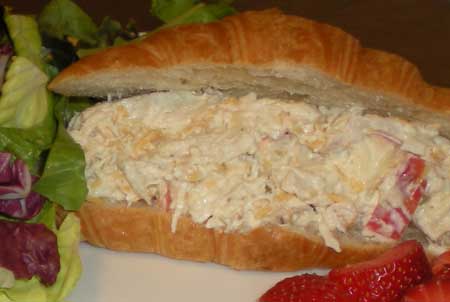 ingredients:
croissants or rolls (see above)
2 large chicken breasts
1 apple (you could substitute grapes)
3/4 cups grated cheese
~3 Tbs. mayonaise
~2 Tbs. miricle whip
~1/4 tsp. black pepper
scant 1/4 tsp. garlic powder
directions:
1. Boil chicken in salted water and allow to cool.
2. Chop apple into bite-sized pieces.
3. Chop or shred chicken, according to your taste. (I like to shred it, that's what Mary does.)
4. Place the apples and chicken into a mixing bowl, add remaining ingredients and mix gently.
5. Slice rolls if necessary, and stuff with the mixture.
6. I serve this with salad and fruit.
Here is an easy pleaser for salad; you can use mandarin oranges if strawberries aren't in season. Also, feta works if you don't do bleu cheese. (But, I like the bleu.)
Strawberry Bleu Salad
ingredients:
3-4 cups mixed greens (I recommend Dole spring mix or 7 lettuces or a head of butter lettuce and some spinach.)
1 pint strawberries, washed and sliced
8 oz. bleu cheese
1/2 c. slivered almonds
1 bottle of poppy seed dressing
directions:
1. Roast almonds on a cookie sheet at 300 degrees for about 10 minutes. (Keep an eye on them, they can burn quickly.) Let cool.
2. Toss all ingredients and serve. Doesn't get easier than that.