This is my Mom's chili (with a few tweaks.) It is so good on a rainy day. (Which we have had a few of lately.) I like to serve it with crusty rolls or cornbread. The best thing about having chili, (feel free to snicker here.) ahem, the best thing about chili is that you can use it the next night or night after to make what we like to call Mexican haystacks. Which is one of my favorite dinners!
Chili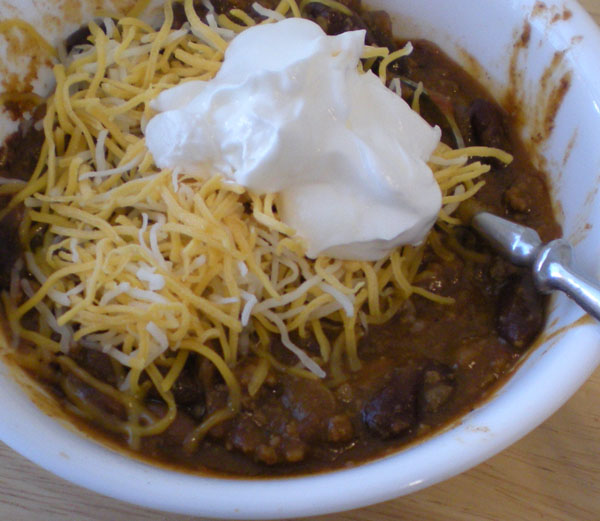 ingredients:
1 lb. hamburger
1 small onion, diced
3 cans of beans (I usually use 2 chili and 1 kidney, but feel free to experiment.)
1 can diced, stewed tomatoes
1 can tomato paste
2 cans diced green chilies
1/2 tsp. Cheyenne pepper (or to taste)
1 tsp. chili powder
1/2 tsp. salt
2 tsp. sugar
1 bay leaf
2 cloves (I actually use ground clove and eyeball it. Mike hates to bite into a clove.)
directions:
1. In a large stock pot, brown hamburger and drain.
2. Add green chilies and onion and saute until onion is translucent.
3. Add remaining ingredients and simmer 45 min- 1 hour.
4. Top with grated cheese and sour cream.
Mexican Haystacks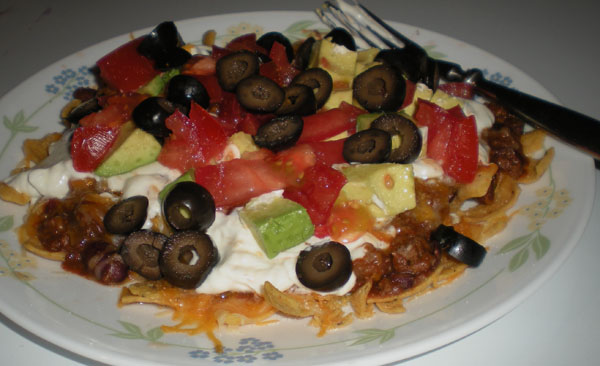 Layer:
corn chips (I highly recomend Fritos.) It is easier to eat if you crush them a little.
chili
grated cheese
diced tomatoes
avacado
sliced olives
(This is what I like, but you could also add lettuce, or salsa, or anything else that sounds good.)
top with sour cream
…oh, so good!