Fondue is kind of a special occasion thing at our house, though it really doesn't have to be. The prep work isn't too extreme, it is just takes a little finesse to get everything taken care of in the last few minutes. My awesome big sis gave me an electric fondue pot (Cuisinart) for Christmas a couple of years ago. I highly recommend it; it is so much easier to be able to make the cheese right in the pot, (not to mention not having to deal with a gel burner.)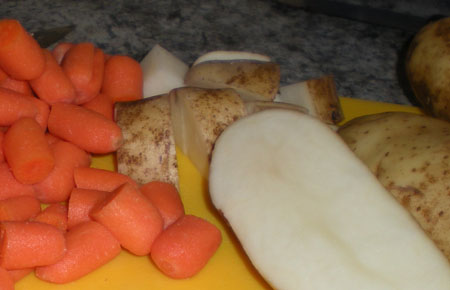 ingredients:
(pick your veggies, I like:)
potatoes
carrots
broccoli
cauliflower
asparagus
artisan bread, cubed
chicken
beef (I use stir-fry or stew meat to save time.)
Kid-friendly Fondue:
~6 cups grated cheese (Jarlsburg, Emmentel, Guyere, etc. Mixing these together is great!)
1 tsp. corn starch
1 tsp. flour
dash of garlic salt
~1 cup sparkling apple cider (Martinelli's)
1 clove garlic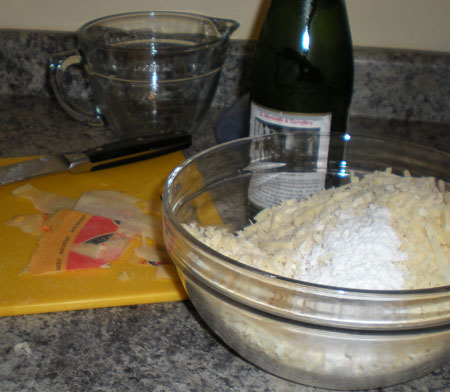 directions:
1. Cut desired vegetables into bite sized pieces. I like to layer all of them in a steaming basket to cook. Put the carrots and potatoes in first, then add broccoli, cauliflower, etc. a few minutes later to prevent over cooking.
2. Cut chicken into bite sized chunks. (Or beef, whatever…)
3. Heat a large skillet and saute meat, sprinkling with garlic salt to taste.
4. Cut garlic clove in half and rub it around the inside of the fondue pot.
5. Bring apple cider to a boil in your fondue pot or a medium sauce pan.
6. Toss the grated cheese with flour and cornstarch.
7. Add the cheese in small batches, stirring vigorously. If the mix is too thin, add more cheese; too thick, add more cider.
8. Hopefully, your veggies and meat are ready, lay them out on a plate for every 2-3 people and set out with cheese mixture.
*A friend recommends eating this meal at your coffee table so that everyone can reach easier. She says her kids think it is so fun to eat in a different location.
*If you really want to go all out, finish with fruit and angel food cake or brownie cubes dipped in ganache. Heat 2/3 cup of heavy cream to just boiling and pour over 1 cup chocolate chips and stir vigorously with a wisk. mmm…
enjoy!