This is a perfect weeknight quick fixin' dinner. If you are really strapped for time, you can use a bottled sauce. I tried this with a frozen deep fried chicken (that I bought at Costco and didn't like the sauce that came with it) this time around.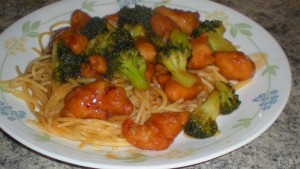 ingredients:
noodles:
1 pkg. of spaghetti
2 Tbs. butter (or margarine)
chicken:
2 chicken breasts, cubed
garlic salt
1 pkg. frozen stir fry vegetables (or whatever you have on hand, tonight it was just broccoli for us.)
sauce:
4 Tbs. orange juice concentrate
2 Tbs. honey
2 Tbs. soy sauce
1 tsp. cornstarch
directions:
1. Set a large pot of water to boil and cook spaghetti as directed. (I actually use a deep skillet for this so that I only have 2 pans to wash. If you don't have a deep skillet, this can be done in a large pot.) When tender, drain and place on a plate. Melt the butter and return the noodles to the skillet. Cook on medium-high heat, stirring frequently.
2. Thaw vegetables in microwave.
3. Heat another skillet, when hot to the touch, add cubed chicken and sprinkle generously with garlic salt. Stir and scrape the bottom of the pan with a plastic spatula continuously while the chicken cooks, about 3 minutes. Turn down heat and add the vegetables.
4. Mix remaining ingredients in a small bowl and pour over chicken and vegetables. Increase heat and cook until sauce bubbles. Allow to boil for about 1 minute while stirring.
5. Serve over noodles.
.
.
Also, let me share the beautiful flowers that my darling friend Juli sent me. (Mike calls her my spoiler. =D I love it!) Seriously, I have the best friends! My birthday has been so much fun because of you all. Amy even timed a gift to come this week and make the fun last longer. I just feel so blessed and touched by all you guys do. I love you, thanks again!