After talking with a group of friends, it seems we are all in need of meal ideas. I am thinking about doing a dinner recipe post each week. While I mull the idea over, let me share a favorite of ours that is so easy to throw together you will love me for it.
french dip sandwiches with steamed veggies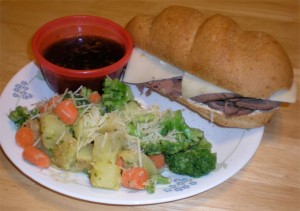 For each sandwich you will need:
Sub or bollio rolls (we like the whole wheat ones at Smith's bakery)
~1/4lb. sliced roast beef (It is worth getting the good stuff at the deli)
2 slices provolone or havarti cheese
butter
Au Jus gravy mix
For the veggie mix:
a few potatoes (I really like Yukon Golds–they have a buttery flavor naturally.), in 1″ cubes
a generous handful of carrots, in 1″ rounds
1 bunch broccoli, cut up
butter
lemon juice
shredded Asiago or Parmesan cheese
Put it all together: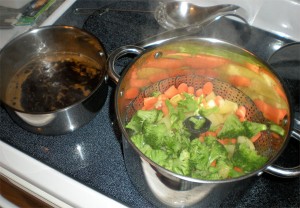 1. Cut up veggies and place in a steamer basket* in a pot with about 2″ of water. Turn element to high and allow water to boil.
2. In a saucepan, mix Au Jus according to package directions.
3. Slice rolls and butter on each side, then arrange with beef and cheese. Set on plates.
4. Pour Au Jus into small bowls (Those take and toss toddler bowls are ideally sized for this.) Add to plates.
5. Pull the steamer out of the pot and dump out the remaining water, then pour veggies back into the pot, add butter to taste and a few squirts of lemon juice, then gently mix. Plate the veggies and top with cheese and a little salt and pepper. Often, I skip the butter or use butter spray–however healthy you want to be here, just do it.
That's it, super easy, less than a half hour total prep. and it just tastes so good on a cold day!
*Allow me to extol the virtues of the humble vegetable steamer. The are around $5 and easily found at the grocery store. It is such an easy and healthy way to prepare a variety of vegetables. While it cooks quickly, things tend to stay a little crisper than boiling. I just love steaming veggies. Buy one. Thank me later.  =)