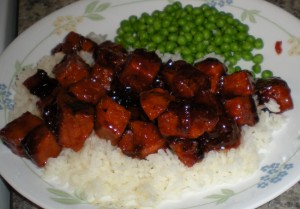 This is one of my very favorite chicken dishes. It also works great with pork; which is what is shown here. I like to make a large pork tenderloin for dinner and then cube the leftovers and make this a day or two later. (I love those double duty dinner ideas!)
ingredients:
~1/2 bottle of Russian salad dressing
1 c. apricot jam
1 envelope dry onion soup mix (Lipton)
1 1/2-2 lbs. largely cubed chicken or pork (3 chicken breasts)
rice
(I really like Jasmine rice–which is a variety of rice produced by many brands. It has a delicate flavor and cooks quickly. The nutty flavor of brown rice is great with this as well.)
vegetable of choice, I really like broccoli with this; but anything works.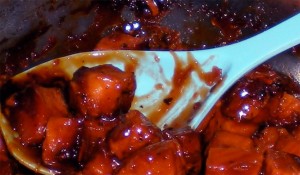 directions:
1. Cut the chicken into large pieces and place in a baking dish. Mix the dressing, soup mix and jam and over the chicken (mix if necessary). Place in the oven and let bake for 45 min-1 hour, until chicken is cooked through and sauce is bubbly.
2. Meanwhile, cook rice according to direction.
3. Prepare vegetables as needed in the last 15 minutes of the chicken's bake time. Plate all and enjoy.