*Fully a week late, I would like to state that due to various technical difficulties, this post has taken FOR EVER to finish! Yes, I am embarrassed. Let's move on.
Megan was so excited to have her birthday be the first day of school. She has been looking forward to kindergarten so much. Monday was a giant day-long celebration. She beamed as we all walked her into the classroom. I think Michael and I were more nervous than she was. She confidently found her seat and began assembling blocks–then didn't even notice us as we left. That's my girl!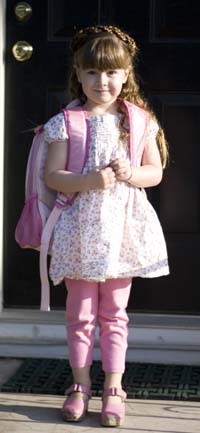 After school we opened gifts and played with new toys; including an avalanche of new Barbie playsets delivered by our own personal fairy godmother. We love you, Juli! Needless to say, these have pretty much been the big hit around our house for the last week.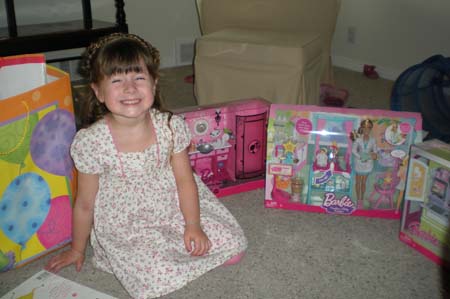 Then we headed over to the swim club for Grandma Verna's swim party. What could be better on your birthday: swimming with cousins and eating pizza, pink cupcakes, and soft serve ice cream? What a day!
Really the festivities started the week before when Grandma Lu took Meg and her cousin for the traditional pre-Kindergarten shopping trip. She took them for lunch then out to buy a new outfit (make that outfits, the cute Grandma!) for school. They came home with the cutest puffy vests! Megan was definitely in her girly element. She was so excited to have this special time with Grandma. Unfortunately, when it came to getting a picture,  we just didn't have much luck. 😀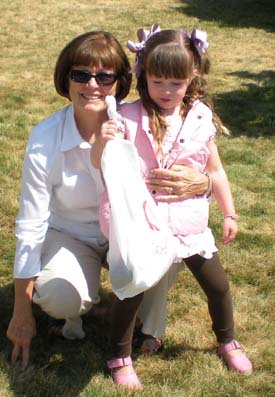 She also had her first fishing trip with Dad. Although they didn't  catch anything, they had a great time. Megan has been "practicing her casting" a ton. I love it! She and Michael have had a ton of fun this summer, camping, backpacking, and now fishing. He is such a good daddy!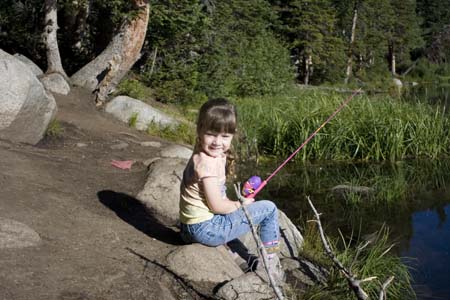 We had a Strawberry Shortcake water party on Saturday. The girls had a ball. (Megan specified that only girls were invited this year. If any boys came, she said that they would have to wear a baby costume. Okay then!) Surprisingly, 13 five year olds (plus Emily) was pretty manageable.  We have a boatload of darling girls in our neighborhood.
I feel so lucky to have Meg! She is my big helper; she's so eager to do anything she can to help out around the house. Often she'll run to close the gate or get me something, saying "I want to be your helper!" It definitely makes my life easier. She has such a sweet and loving disposition and is so quick to tell us how much she loves us. Which also goes for her relationship with Emily. They play so well together. Our pediatrician said that they "get along uncommonly well" as he watched them play during her check up this week. It is true, they are awesome sisters.
Megan has a hilarious sense of humor and I love the funny laugh that she does when she is really amused by something. She is also one serious drama queen. She and Emily play out elaborate scenarios (where she is almost always a princess) When she is hurt, boy, the world knows it! It's hard to believe she is five, she is wonderful! Happy Birthday (a little late) sweet girl!