Yesterday, our wonderful neighbors had a gold hunt in their yard. It is a neighborhood tradition and the girls had a ball! It was so well set up that I couldn't help but think it would be fun to share in case you would like to do it in your own neighborhood on Tuesday.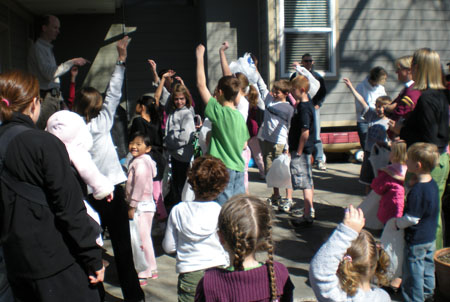 getting ready for the hunt
materials:
several rocks, around 3 per hunter (more is certainly good)
gold spray paint
invitations (or phone calls)
bags to place candy in (party favor bags)
*optional prize for the winner of the hunt
*1 bag of candy from each child
directions:
1. Invite friends. Our hunters were asked to be between the ages of 3 and 11 and to bring a bag of candy per child to share.
2. Spray paint rocks to create the "gold"
3. Hide rocks around your yard. Our hosts had the little kids in the front yard (8 and under); while the older kids searched the back yard.
4. Have the hunt: This takes about 20 minutes start to finish. (Well, excluding the playing while parents chatted.) Collect the candy as kids arrive and then divide it into bags for the children to take home.
5. After it seems all of the gold has been found, ask the children to count their rocks; then bring them to a "collector" to trade for candy.
6. If desired, award a prize to the person who collects the most "gold". Save the rocks to pass to next year's host.
Pretty simple, but a ton of fun! I thought this was such a great way to celebrate a holiday that usually doesn't mean too much to little ones. Either way, have a Happy St. Patress Day (Which is what Megan calls it. =D)