When I got this request for a wedding cake a couple of weeks ago I wasn't sure  how good it would taste. After a lot of experimenting I ended up with recipes I really love and thought I'd share. If you want a stronger lime flavor, I think you could beat more powdered sugar into the filling recipe and make an excellent frosting out of it. I also used the white chocolate frosting on some chocolate cupcakes last weekend and received rave reviews. So, feel free to mix and match on this baby.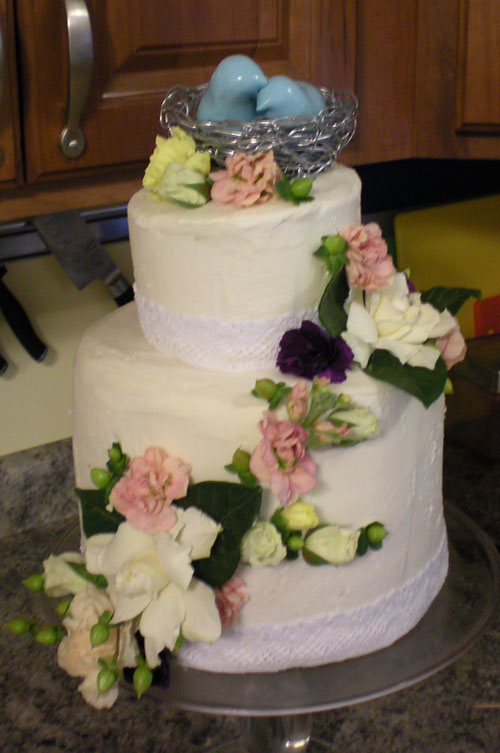 easy key lime cake
adapted from CakeCentral.com
ingredients:
lemon or yellow cake mix
3.5oz. instant lemon pudding mix (dry)
4 large eggs
1/2 cup key lime juice (you can use bottled key lime juice and regular limes for the zest.)
1 cup vegetable oil
1/2 cup buttermilk (water will work, but provide a less dense cake)
zest from 3 limes
directions:
1. Preheat oven to 325 degrees.
2. Combine all ingredients and beat with electric mixer for 2-3 minutes
3. Pour into prepared pans (I like to just spray my pans with a baking spray) and and tap several times on top of the counter to release air bubbles. Slide a knife back and forth in the batter (not touching the bottom of the pan) to remove bubbles and even out the batter. This will help your cake bake up evenly and prevent "doming."
4. Bake for 45 min. or until a toothpick is inserted and comes out clean.
5. Cool for 10 minutes and turn out from pans.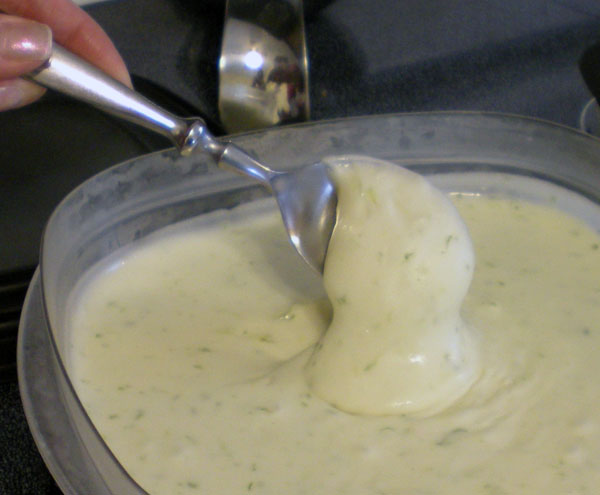 key lime filling
ingredients:
1 pkg. cream cheese, softened to room temp.
1 1/2 lbs. powdered sugar
1/3 c. key lime juice
zest from 4-6 limes (however zesty you like it. : D)
Mix all ingredients and beat for a few minutes. Adjust the sugar or juice as needed to get the desired consistency.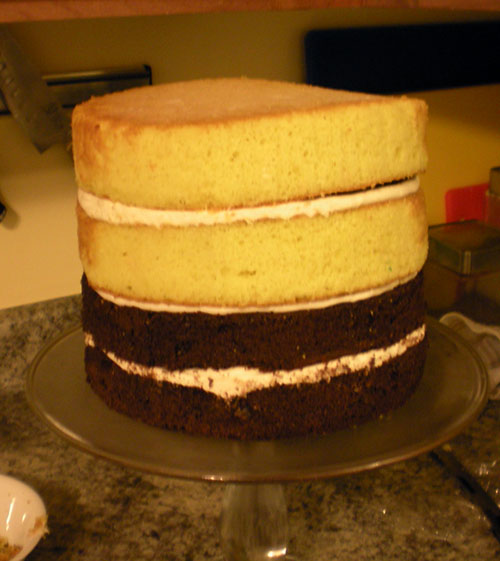 A little of everything: This cake was cut in half to make two 2 layer cakes. One chocolate with
raspberry filling and the other key lime. 🙂 Who says you can't have everything you want?
white chocolate frosting
ingredients:
12 oz. white baking chocolate, coarsely chopped
1/4 c. milk
1 c. shortening
1 c. butter
1 1/2 tsp. vanilla extract
1/2 tsp. almond extract
8 cups powdered sugar
1/4 c. milk
directions:
1. Microwave chocolate with 1/4 cup milk in microwavable bowl on Medium-high for 1-2 minutes; stir chocolate halfway through cooking time. Do not overheat, the chocolate will continue to melt as you stir.
2. Cream butter and shortening in a mixer until smooth and incorporated; then add vanilla and almond.
3. Add sugar, one cup at time, while beating on a lower speed. Once about half of the sugar has been added, stop and scrape sides and bottom and add milk. Then continue adding the rest of the sugar.
4. Once the frosting is smooth,  beat in chocolate. Continue to whip until it is light and fluffy.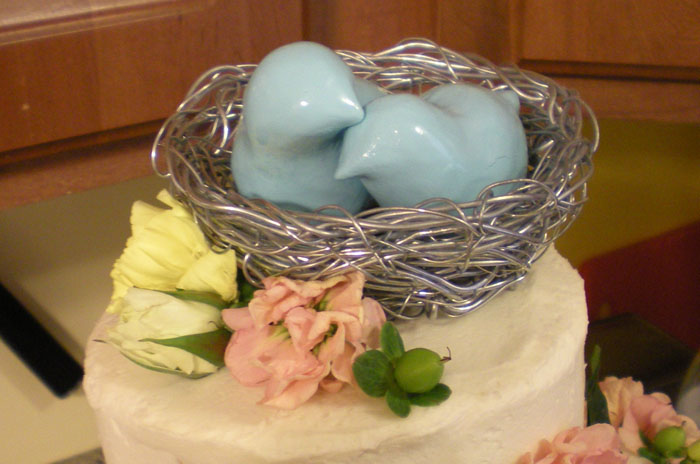 Little clay birds nestled together. Ahh….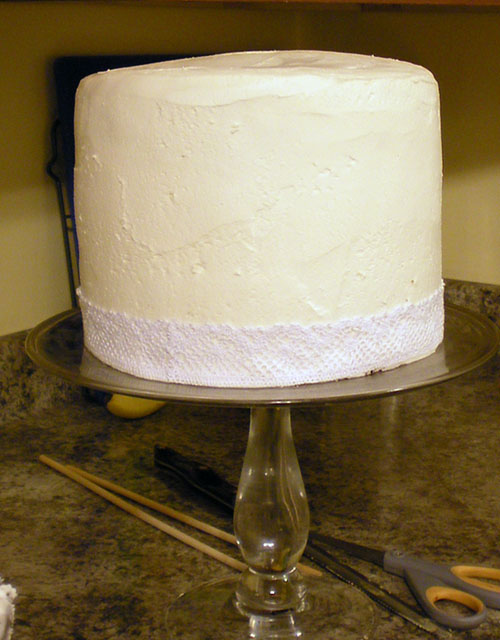 If I were making this cake for another occasion; I would do 3 layers and serve it like this. Garnishing with lime slices halved and arranged around the bottom would be very cute.