I served these at bookclub this week and had a few requests for the recipe. It makes the right amount for a pie. (Which I like to serve with fresh whipped creme) However I usually make this in mini muffin cups to make tartlets which are not only cute, but can just be eaten whole. I am a huge fan of mini deserts because I like to try one (okay, or usually more) of everything. Either way, this is so fresh and light, (and ridiculously easy to make) that you will love it!
ingredients:
fillling
1/2 cup key lime juice (You must use KEY lime, regular lime juice won't taste right.)
1 small tub of cool whip
1 can sweetened condensed milk
optional:
a drop of green food coloring-just a little, you don't want it to look fake.
lime zest/slices for garnish
crust
~1 1/3 c. crushed gingersnap cookies
~2/3 c. crushed graham crackers
1/4 c. sugar
scant 1/3 c. melted butter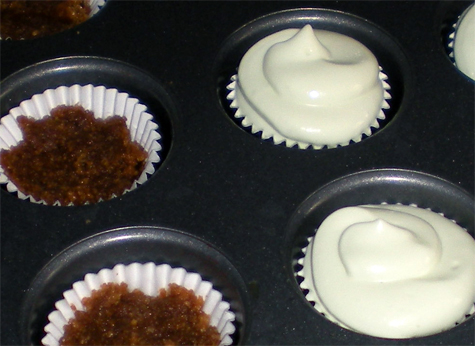 directions:
1. Use a food processor or rolling pin to finely crush the cookies and graham crackers. You can change the proportion of crackers to cookies to taste, but the gingersnaps really give the crust an excellent flavor–it's worth it to use them!)
2. Mix with sugar, then add melted butter.
3. Press into muffin cups or pie plate and set aside. (Fill the mini muffin cups almost half way.)
4. Using a fork or small whisk, beat the lime juice into the condensed milk, then fold in the cool whip. Mix until there are no lumps.
5. Pour mix into shell and refrigerate for a couple of  hours.
*If you are making tartlets, the easiest way to fill the cups is to spoon the filling into a gallon bag and snip off one corner. Use this like a piping bag to fill each shell. I like to make a circle around the edge, then spiral into the center.