So, I've been trying to get a project post put together since Monday, but I am having technical difficulties–all user related, of course. Hold your breath. It's coming. In the meantime, allow me to share my all-time favorite go-to potato recipe. It is from a trusted long time friend. Just kidding. It is from Lipton. It's good though. Every time I make it, people ask for the recipe. Do me a favor and pretend it is really special when people ask you for the recipe.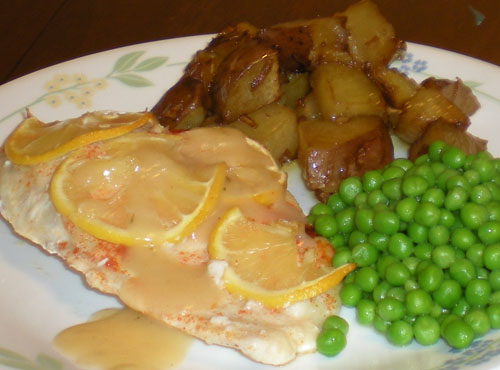 ingredients:
chicken:
4 chicken breasts
1 lemon
paprika
garlic salt
1 can cream of chicken soup
1/4 cup sour cream
milk
1 clove garlic, chopped
1/4 tsp. lemon pepper
potatoes:
2 lbs. red or Yukon gold potatoes
1/2 cup olive oil
1 pkg. Lipton onion soup
salt and pepper to taste
directions:
1.Cut potatoes into 1″ chunks and place in a 9×13 baking dish. You want them to be in a single layer if possible.
2. Mix the dry Lipton soup mix with olive oil and salt and pepper to taste. (Keep in mind that the soup is salty, so don't over do it.)
3. Pour the mixture over the potatoes and toss to coat. Place in a 400 degree oven. (They need about 45 minutes total bake time.)
4. Spray another (smaller) baking dish with non-stick spray or pour a little chicken broth in the bottom of the dish. Then add chicken breasts.
5. Slice half of the lemon as thinly as possible. Squeeze the other half over the chicken and sprinkle with paprika and garlic salt. Then arrange lemon slices in a thin layer over the top and put in the oven alongside the potatoes. (The chicken needs about 25-30 minutes to bake.)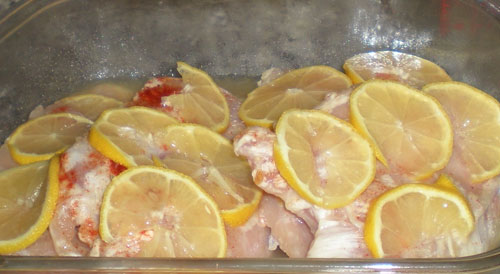 6. Mix the cream of chicken soup with the sour cream, lemon pepper and garlic in a small sauce pan. Add enough milk to give it a creamy sauce consistency and stir frequently until it bubbles.
7. After you have plated the chicken, drizzle the lemon sauce over the top and serve with potatoes and nice green (Salad, broccoli, peas, etc. If you don't mind stinky kitchen, halve some Brussels sprouts and cook them with the potatoes–so good! So smelly.)
This looks nice, it's a good company dish. I love the thin-sliced lemons and eat them with the meat. However Michael left his on the plate. Some of us are more adventurous than others. I'm not saying it's wrong. Mostly because I'm not the judgy type.  Actually, I'm really thinking that it sounds good right now.  Um, too bad it's bedtime, not dinnertime. Maybe tomorrow. Watch out honey, I might even pick up some Brussels sprouts. He's a good sport.