Our neighborhood has an annual gold hunt for the kids. It is easy to put together, very low cost, and can even be done in the park if you're so inclined. Let me assure you that it is a huge kid pleaser for a wide variety of ages. So call up some friends and get your green on! Here's what to do: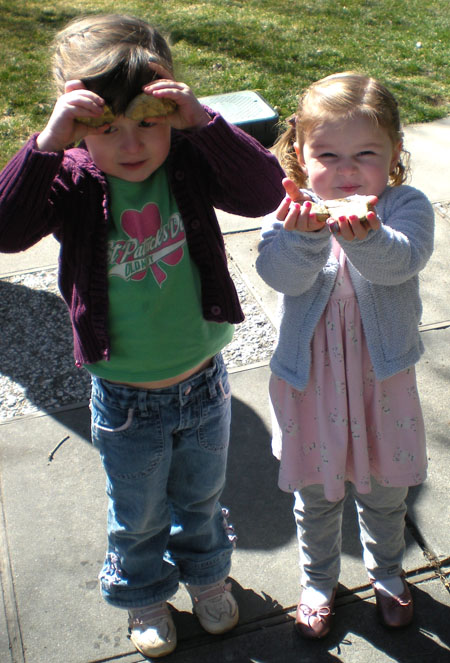 materials:
several rocks, at least 3 per hunter (more is certainly good)
gold spray paint
invitations (or phone calls)
bags to place candy in (party favor bags)
*optional prize for the winner of the hunt
*1 bag of candy from each child
directions:
1. Invite friends. Our hunters were asked to be between the ages of 3 and 11 and to bring a bag of candy per child to share.
2. Spray paint rocks in a variety of sizes to create the "gold."
3. Hide rocks around your yard. Our hosts last year put the little kids in the front yard (8 and under); while the older kids searched the back yard.
4. Have the hunt: This takes about 20 minutes start to finish. (Excluding the playtime while parents chatted.)
5. Collect the candy as kids arrive and then divide it into bags while they are occupied with the hunt for the children to take home. If you have older hunters, you may want to distribute based on the number of rocks collected.
5. After it seems all of the gold has been found, ask the children to count their rocks; then bring them to a "collector" to trade for candy. You may want to add a good story about restoring it to a leprechaun to add drama. : D
6. If desired, award a prize to the person who collects the most "gold."
The families in our neighborhood take turns hosting each year, but this could certainly be a family activity too. The rocks are saved for use the next year. Have fun and happy hunting!