I may not have been blogging lately, but I have been cooking. We have especially been eating a lot of paninis and grilled wraps since one of my favorite friends, Juli, gave us a panini press for Christmas. Mike has been very grateful! I'm loving how quickly I can turn out a crowd-pleasing meal. Somehow those little grill marks make sandwiches very dinner worthy. This one is gooey, warm, and comforting (and not partiularly low-fat, so not to be had too, too often–but hey! You've got to live, right?)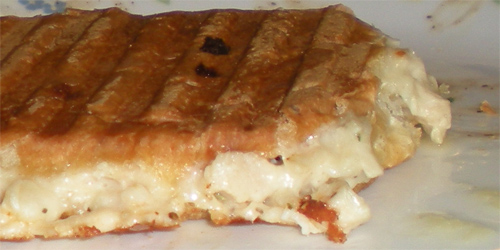 ingredients:
2 (smaller sized) chicken breasts, cooked and shredded
1/2 c. mayonaise
1/2 c. Parmesan cheese
~3 Tbs. minced onion (I keep a bag of the frozen chopped onion in the freezer for recipes like this.)
Dash of salt
Dash of Herbs de Provence (or other preferred herb blend)
Ciabatta rolls (or French bread or whatever)
directions:
1. Cook and shred chicken then blend in small mixing bowl with other ingredients.
2. Heap onto bread and grill in panini press. You could also lightly butter french bread and grill in a skillet (`a la grilled cheese) or broil open-faced.
3. Serve with salad and fruit.