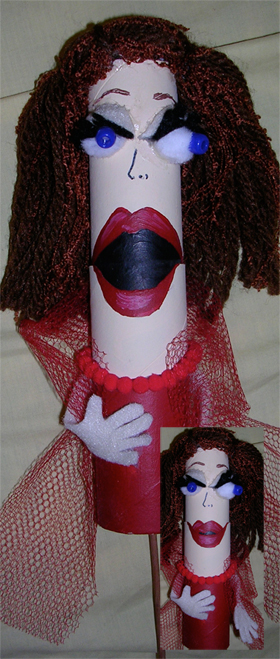 Michael and I went for post-dinner walk last night and bumped into a few friends who have school aged kids. They were talking about how long the first day of summer (as in "school's out" summer) was. I thought this would be a perfect time for a project that is bound to take up a few days for the kids… puppets. They are fun to make and fun to play with. And one of the best parts about puppet-making is that there are so many ways to do it! Most people are already familiar with the sock and paper bag methods, which are classics for a reason, but there is no need for me to cover them again. Last summer my art classes made their puppets out of something a little more creative. I guess we could call them found art puppets. Take a look though your kitchen drawers and start collecting paper towel rolls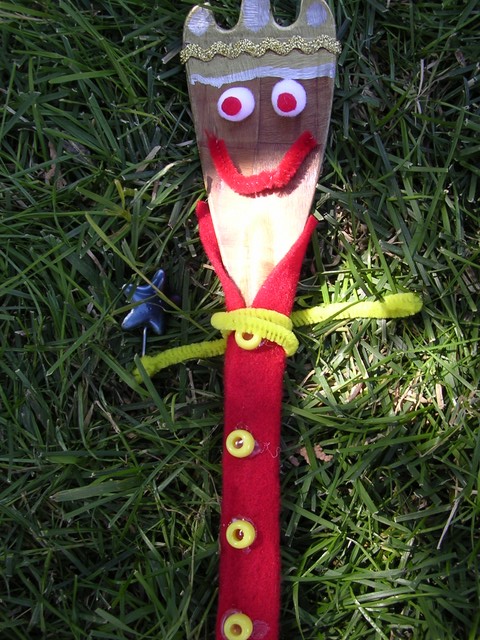 for these theatrical cuties.
Materials:
Toilet paper and paper towel rolls
Items from your art box:
Felt
Cotton balls
Yarn
Beads
Craft sticks, bamboo skewers, or other sticks
Flowers
There are lots of other possibilities-Use your imagination!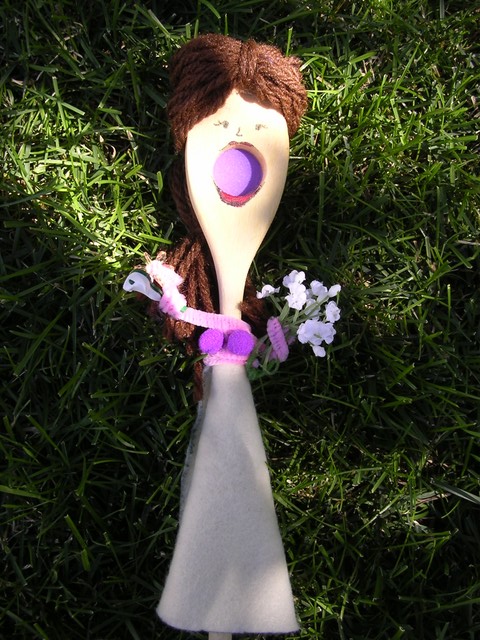 Craft glue (I like Aleene's tacky glue)
Directions:
1. Really, this is a project that you can just go crazy with. But here are the steps for the ones shown:
Opera Singer
1. Place a toilet paper tube inside a paper towel tube and sketch where you want the mouth, then cut the lips.
2. Cut the paper towel tube to the desired legnth.
3. Paint the skin color and the base color for the clothes.
4. Once the paint is dry (about 15 min.) sketch out details and paint (Make sure to pull the toilet paper roll so that the mouth is all the way open and paint all of that as well as making sure the lips line up when they are closed.)
5. Make eyes by gluing a bead onto a cotton ball. Then cut an eyelid shape from felt (and lashes if desired, which are glued just under the edge of the eyelid) and glue over the cotton ball.
6. Make hair by wrapping yarn around your hand several times. Tie another piece of yarn around the wound yarn in one place (Which will hold the threads together.)
7. Trim the hair as desired and glue to the top of the paper towel roll.
8. Tape a stick to the bottom inside of the toilet paper roll. (This is what you will pull to make the puppet talk.)
9. Tape another stick to the inside back to the paper towel roll. (This is what you will hold to hold the puppet up.)
Kitchen Utensil Puppets
Here are a few tips:
Wrap with felt for clothes.
Silk flowers make great skirts.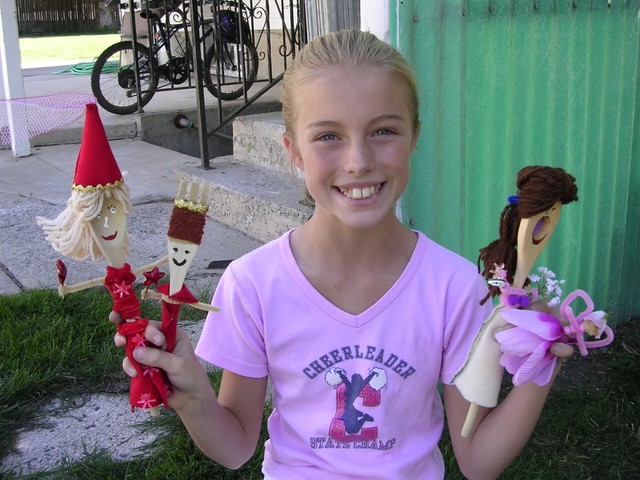 Salad forks make great royalty. Paint the tongs with gold or silver paint and then embellish.
Whisks make great crazy creatures or aliens. You can tie or wrap fabric or pipe cleaners through the spokes to make hair.
Have fun!