Every once in a while I just get a craving for something like this. If you like to make fresh meatballs, go for it. I like to make this because it is seriously easy and quick so I use frozen.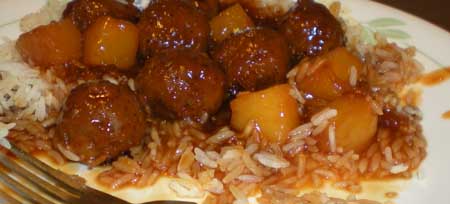 ingredients:
1/2 cup cider vinegar
1/3 cup ketchup
1 1/2 Tbs cornstarch
1 cup brown sugar
2 Tbs soy sauce
Frozen meatballs (However many it takes for your fam. For us, it is about 15 balls.)
1 can pineapple chunks, drained
Rice
Broccoli or peas (or whatever)
directions:
1. Prepare rice as directed.
2. Add first 5 ingredients to skillet and stir until combined. Then add meatballs  and pineapple and allow to bubble until rice is done.
3. Cook vegetables. I like something green to balance the sweetness of the meatballs, but do what works for you.
4. Serve meatballs over rice. Pretty simple, very easy. Some people feel that green pepper and onion are vital to a sweet and sour dish. I don't, but if you do–add them! If you haven't figured it out yet, I'm an easy-going cook. You don't have to do it just like I do. I rarely measure, so I guess I don't even always do it like I say to. 😀 Oh boy, time for bed…