Boy have I been procrastinating with what to do for Megan's preschool Valentines. Luckily, I finally found some inspiration. If you are a procrastinator too, feel free to use these. They were super easy to put together and reasonably priced. Plus, Megan is stoked about them. We have played a few good games already.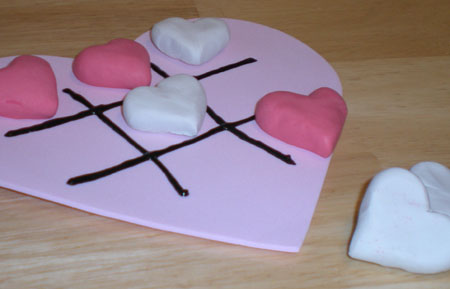 materials:
fun foam or cardstock hearts (I found a pack of 30 ready to go, yay!)
tube of puffy paint
2 colors, polymer clay (such as fimo)
cookie cutter (optional)
directions:
1. Use the puffy paint to put a grid (of 9) on the fun foam heart; set aside to dry.
2. Knead a chunk of the clay to soften. If you are using a cookie cutter (which I recommend for speed's sake) Lay down a piece of plastic wrap then press clay out onto it. Roll with a rolling pin to even out. You will want to keep it fairly think, at least 1/2″.
3. Bake clay as directed.
4. Wrap it all up and add a cheesy note like, "Valentine, You are a Winner!"
hehehe. Happy Valentine's Day!