One thing little girls love (and actually big girls too) is a tea party. We have gotten the opportunity to do quite a few in the last several months and I think I am honing my girl-pleasing menu. Here are a few favorites: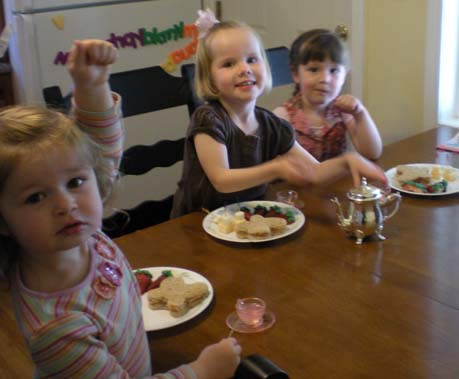 The number one item needed for a tea party (aside from a tea set of course) is the frilly toothpick. You stack anything onto a frilly toothpick and it is FANCY NANCY. (ie. really good.) Pickles, fruit, veggies, cheese, whatever. They'll love it!
The girls love thickly sliced banana with peanut butter and sprinkles on top.
Also impressive to little party goers is the cracker topped with peanut butter and banana or a slice of apple or some cheese.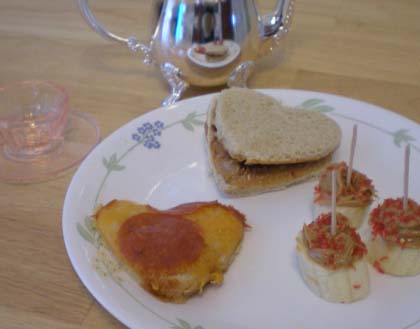 Almost as vital to the tea party as the frilly toothpick, is the cookie cutter. A peanut butter and jelly sandwich is transformed when shaped like a butterfly.  Don't feel like you have to stop at sandwiches though. Cut out a few fun shaped quesadillas, we like to add peperoni to the top and make a "pizzadilla."  Another option is to cut cheese and lunch meat as well as bread or tortillas into fun shapes and let the kids layer their own little sandwiches.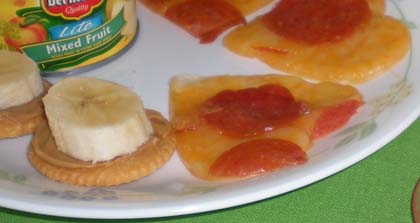 Finish off with cookies, cupcakes or any little treat and you have a memorable afternoon girl-fest. You can pick up a mini muffin tin (or two) at the grocery store. One cake mix will yield about a million mini cupcakes; which can be frozen. Then just pull out what you need and let the girls frost and sprinkle them. They get all the fun without loading up on sugar. Really, it is all about the extra little touches that make it more than an ordinary lunch. It is a little bit of extra work, but the girls just get so excited about doing it. You can't beat a tea party!