I have been trying to think of something to put a little more meaning into Thanksgiving for us. Honestly, it is usually more about what I am going to make  for the dinner than anything else. However, I am trying to make time for more of the meaningful things. I am frustrated by how easily the trivial daily things eclipse the eternal for me. Anyway, this was one idea.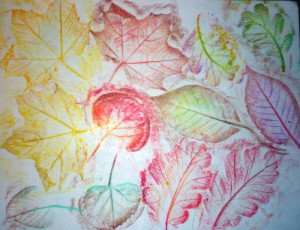 We put the tree up in a prominent place and explained to the girls that when we think of something we are grateful for–something good that happens, noticing our blessings, something that someone has done for us–we can write it on a leaf and put it on the tree. Here's how we made ours, but feel free to change it up to fit your tastes. You could do die cut leaves out of cute scrapbook paper; we made ours with rubbings of leaves we collected on a walk yesterday afternoon. Here's a rundown of what I did: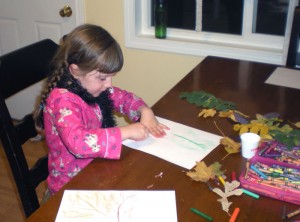 materials:
2-3 paper grocery bags
plain white printer paper
crayons
leaves
tape
scissors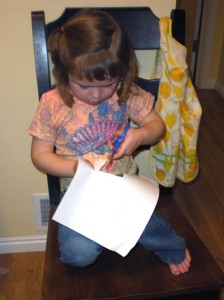 directions:
1. Collect a handful of leaves. Place a leaf or two under a sheet of paper and rub the side of a crayon gently over the top. It looks fantastic when you layer 2 or 3 colors. If you do this, start by rubbing lightly and press harder with the second or third color. You can also do the center in one color then add in another on the edges, etc.
2. Cut the leaves out and place in a container or envelope for later.
3. Open the seams on one of the paper bags and cut out a trunk shape that is wider than you want the finished shape to be. Twist and crumple the paper, folding the edges under as you go.
4. Repeat the process, creating a top for the tree by cutting 4 or 5 strips down most of the  bag. It will look best if the bottom is cut diagonally so that it doesn't make a line straight across the trunk.
5. Tape the tree to the wall and place leaves close by. Write the things you are thankful for on the leaves and tape them to the tree. If you use crayon rubbed leaves, you'll want to write in pencil or crayon.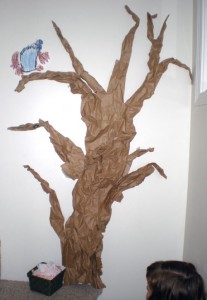 Check out the monster perching on a tree limb. Emily made him and said he needs to be there. She very seriously said "This monster likes to squeeze and pinch kids and eat babies… but not babies in their houses, just ones in the street." Okay then.
Hope your Holidays are meaningful. I definitely want to hear your ideas, what are you doing?