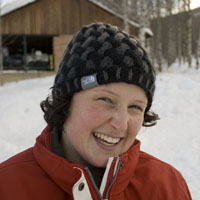 I'm hijacking a post here to share with you some reasons why I consider myself the luckiest husband in the world.
10 years ago, around 7am(bleh) I was married to the love of my life. After we were married for about a year, we would say that sometimes it seems like we've been married only a short time, other times it seemed like we'd been married forever (in the good way.) The forever feeling was based on how much we learned about each other and how close we had grown in such a short time, it wasn't like the "it's taking the dentist forever to drill out this cavity." To this day, I often feel like we are still newlyweds.
Now, on to some of the reasons why I'm the luckiest husband alive:
Keersten spoils me. She takes such good care of me. She takes care of everything around the house. She makes dinner for our family every night. Even when she's sick, she tries to take care of me. For example, tonight she wasn't feeling too well and felt like she was going to throw up. Her concern was for me and what I was going to eat for dinner. I held out until she was feeling a little better and I took care of getting a late dinner for both of us (Arby's.) Even when she has every reason to just think of herself (like I always do when I'm sick) she is thinking of others.
She's always smiling. Anyone who has met Keersten knows what I'm talking about. You know how bright and happy she is. That is one of the things that attracted me to her when I first saw her. I still remember that day quite well.
She's patient. She tolerates the things her 3 kids do (I'm including myself as a kid.) She is able to handle situations with grace where I would be much more likely to raise my voice or take offense. She puts up with my crazy working hours (it's past 4am right now.)
She is very talented. She has such a creative mind and is able to convey feeling so well through her paintings, drawings and other projects. I'm always amazed when she is able to quickly paint or sketch something that looks like it belongs in an art museum somewhere.
She's the best mom. Our daughters love her so much. Nobody can comfort them (or me) like she does. They love to play with her. They love to do projects with her. They love to be with her.
She's an excellent example. She's an example to me of being thoughtful and considerate of others. While I have made a slight improvement in this area since we've been married, I still have a very long way to go. I feel she's spiritually stronger than I. She always works hard at the things she does and does a good job. I'm thankful to have her example around me and also that our daughters have her as an example.
She is an awesome wife and mother. I'm so thankful that I can be with her forever and that our children have her influence in their lives. I love her more than ever.
– Michael