I can't tell you how many recipes I've tried for play dough; but I think I've finally settled on a favorite. This one is quick and cheap, with common pantry ingredients. It also has a fantastic texture–just like "Playdoh".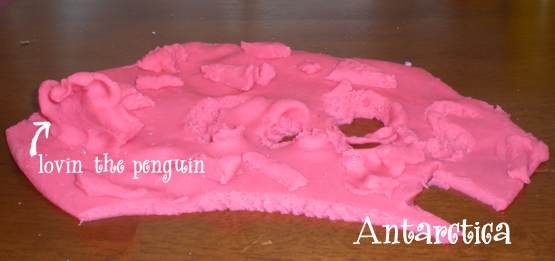 materials
3 1/2-4 cups flour
1/2 cup salt
1 tablespoon cream of tarter (found with the spices on the baking isle)
2 1/2 tablespoons oil
2 cups of water
food coloring (optional)
cherry, strawberry, vanilla, or lemon extract (optional)
directions
1. Heat water to boiling in a medium saucepan. If you want one color of dough, add the food coloring now. This makes it very easy to color. If you want multiple colors, you can work the food coloring into the finished dough.
2. Measure a generous 3 1/2 cups flour into a medium-large mixing bowl (one that holds at least 8 cups.) Reserve extra to add if the dough is too sticky. Mix in the salt and cream of tartar. I have to admit that I love the way this feels, so I always use my hands. Salt and flour just have an interesting texture together. Is that weird?
3. Once the water is boiling, whisk in the oil. Remove from heat and add extract. I like this because it makes the playdough-and your hands-smell good. It can smell too good and be tempting for your child to eat, but this dough is fully edible–just not tasty. I prefer lemon because it smells clean. My girls haven't ever been interested in eating it, but leave it out if you are concerned at all.
4. Make a well in the center of the flour mixture and pour the water mixture in. Stir with a spoon until flour is incorporated, then turn it onto the counter or a cutting board and knead until smooth.
5. Now play!