*Please note that I have been working on this post for over a week. No, it's not a finely honed jewel. I just can't find time for-well-anything that doesn't cry or pat my hips saying "Mommomomomom" to get attention.*
It seems like every twelve hours I find my self saying What? How can it possibly be 11:00 already??? Which inevitably leads to the sick stomach feeling of Well, now it's 12:00. Great. Now I am in bed late (or for the am:) Now the morning is over and what did I accomplish? Oh well. I will keep on hating 11:00 until I am either asleep or have actually accomplished something at that time. So, for the next 20 years or so.
Enough complaining. Allow me to share a bit of what I've been doing instead of blogging. Amanda is growing REALLY quickly. I don't remember this going quite so fast with Meg or Emily. She wants to sit up and watch the action. (Which she thinks is all directed at her. With reason, I admit we are all quick to try and entertain her.) I love that she will light up and smile and squeal at me when I am talking on the phone or to one of the other girls. This usually leads to me finishing the conversation in a syrupy baby voice. My apologies if this has happened while I'm talking to you.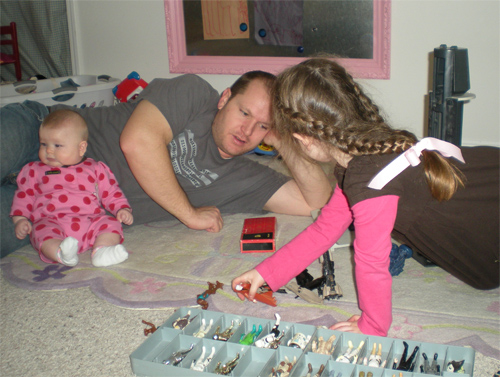 After a massive (and painful) cleanup effort, Michael got out his old Star Wars toys. The girls have played Star Wars nonstop. It cracks us both up to listen to the excellent dialogue. Just imagine if George Lucas had also been an avid Fancy Nancy fan. They wanted me to assemble the Death Star yesterday. I told them that I didn't know how it went together. (This is my first time playing with them too.) Emily looked at me and said in her little exasperated tone "Mom, you've seen the movie." Ha! She also insists that Han be called Captain Solo. At least she knows who the real man in Star Wars is.