I have decided that my new mode of parenting, well actually just living, is to keep myself in a continual state of barely treading water. It seems the minute I start to feel like I kind of have things under control, I decide to throw something else into the mix–why? WHY?
This is an alarming (and probably boring to read about) trend for me since Amanda was born. I seem to want to constantly feel like I barely have things under control. Well, my latest adventure was making bread. Michael's wonderful Mom makes bread. Michael really wishes he had access to her dense, soft, whole wheat slices 24-7. Michael's wife has purchased and thrown out 3 big pouches of yeast waiting to be inspired to make said bread. It just seems so intimidating with the grinding, and the kneading, and the proofing. (Okay, I'm done.) Anyway, I finally gave in and went for it last week. Afterall, LuAnn assured me that it is the easiest recipe ever. The mixer does all the work–and here's where we hit the problem. My trusty little Kitchenaid (Artisian) seemed to explode with dough as I added in the 5 cups (out of 10) of flour. Flour went everywhere and dough rose up the mixing arm and gummed up everything it could under the head of the mixer. I wish I would have had the presence of mind to take a picture; but I was too busy trying not to panic. I pulled out the dough and cleaned up. I cut the dough in half and put a section back in the bowl. I can handle kneading two batches. We're still okay. As I am keeping kids happy, cleaning up the rest of the mess, etc. I start to smell that dread-inducing electrical burn smell. I turn around like the heroine in a horror film. There is smoke pouring out of the head of the mixer! The humanity! I finish kneading by hand. I only get 2 more cups of flour in. The bread still manages to turn out very dry. (Though thankfully edible.) It actually doesn't even look too bad.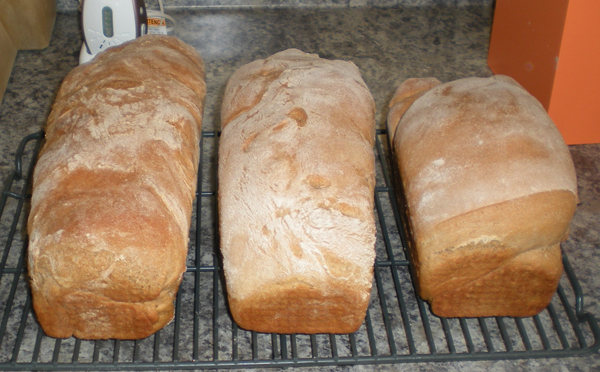 So now, finally to the question:
I need a new mixer. What do you recommend? I have looked at everything and they all have very mixed reviews. You Bosh lovers, do you use your Bosch for everything else or do you use something else to make cakes, cookies, whipped cream, etc.? We are almost ready for round 2 of the bread-baking cahllenge. I need to get something. Sigh, thanks for listening.