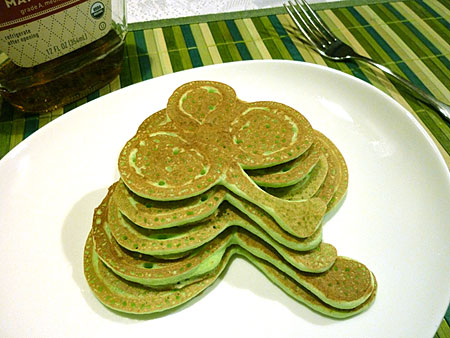 image via
mommy911
…I mean it literally. It just tickles the girls to have a monochrome dinner and a green table for St. Patrick's day is the perfect way to celebrate. I thought I'd throw out a few ideas. Share in the comments if you have a fun tradition.
Shamrock pancakes

are a Jensen specialty. Just tint the batter green. LuAnn freehands with a spoon; I find it easiest to pour the batter into a gallon zipper bag and snip a corner off. Either way, make your shamrocks by joining 3 (or 4 if your lucky, hehe) circles or hearts for the leaf and a little stem. Perfect for breakfast or dinner.

Green eggs and ham

are a popular choice. Stir a 3-4 drops of green food coloring into the eggs as you scramble. To color the ham, let it sit in heavily tinted water overnight. (I have to admit, we had this in YW when I was 13 and I refused to touch the ham. It looked nasty to me. Just so you know…I still think it would be worth trying.)
For a twist on

green milk

, squeeze a few drops of food coloring into the bottom of a glass and set it out on the table for the kiddos. Once they are seated, fill the glass with milk and watch their surprise as it magically changes color. You can tell them it is a leprechaun trick.
Tint

bread or rolls green

for dinner (add the coloring at the start of making the dough). I think we are going to have

green bread

bowls for dinner (maybe even shamrock-shaped bowls if I am not to crazy by then), filled with my favorite creamy chicken noodle soup–dyed green of course.
You can mix a

little food coloring with milk

and paint it onto white bread if  you aren't  into making it from scratch.
My other main dish possibility so far is

green chicken and rice

. I think adding 6-8 drops into the water before cooking rice would work well. Then make a creamy chicken mix and dye that too. Serve with

peas

and

green jell-o

and you are set.
Of course,

shamrock sugar cookies,

or green cookies or cupcakes, in general are a welcome St.P treat.
Don't forget how many other food items you can stir a little green into; such as mashed potatoes, cream cheese, oatmeal, grits, ice cream, rice krispy treats, and more.
On the non-food front; my cute friend Melissa gets a

visit from a leprechaun

at her house. He leaves gold foil coins, shamrocks, and treats for their kids. He could also plays tricks as outlined on this eHow article.
If you can round them up, you can use

Easter egg dye tablets

in your toilet or screw one into the aerator of your

faucet

to have green water come out.
Family Fun has a bevy of great ideas, including instructions on how to make a

Leprechaun Trap.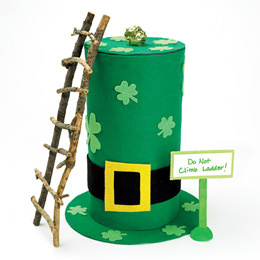 image via
family fun
I can't wait for this happy go lucky holiday! It is the day after my little sis' birthday, so we have always loved to party hard for this one! Hope you guys enjoy too!