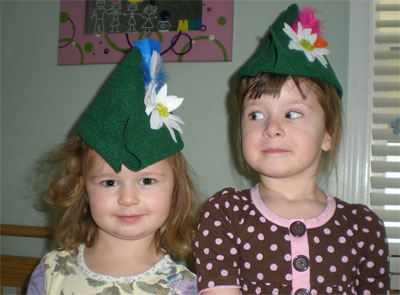 We were always excited to head over to Woodburn, OR for Oktoberfest when I lived at home. Although beer certainly is the centerpiece of the festival, there is a lot to see and eat at these carnivals. Oktoberfest is arguably the largest festival in the world, hosting well over 6 million people in the actual fair in  Munich last year. It was first held to honor the newly married Crown Prince Ludwig I and Therese of Bavaria in 1810. Celebrations run from late September to the first Sunday of October and chances are there is a festival being held in a city or town near you. However, if you'd like to celebrate at home, I suggest having a german inspired dinner, possibly trying out a traditional game of skittles, and making these Edelweiss hats to wear for the party.
edelweiss hats
materials:
large piece of felt or construction paper; trimmed to 12×18-inches (traditionally green)
white and yellow felt or construction paper for flower
*For paper, use a hole punch to make 6 circles or do one larger circle. You can also use 6 yellow pompoms or beads for the center.

feather
glue (glue stick for paper, craft or hot glue for felt)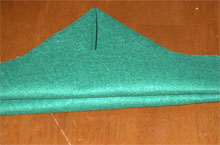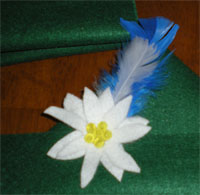 directions:
1. Fold the sheet of felt or paper in half. (It should now measure 9×12.)
2. Fold both top corners in towards the middle evenly, leaving 2-3 inch border along the bottom. If you are using felt, you will need to tack the corners down with a bead of glue.
3. Fold the bottom up on both sides each to their own side.  This forms the brim.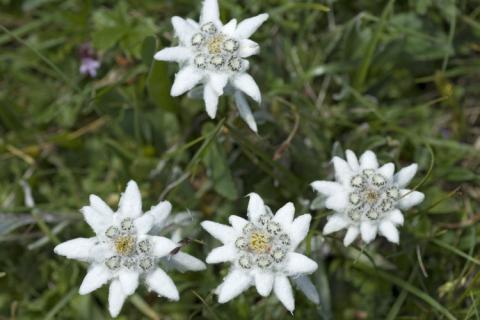 4. Cut out an edelwiess flower. (Here's the pattern I used:) If you are using paper, use a hole punch to make 5 yellow circles and glue all together.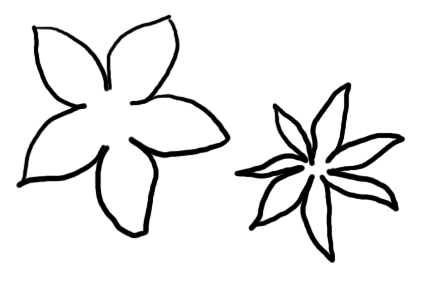 5. Make a small puddle of glue on one side of the hat and lay the bigger flower down to make the base, then put the smaller on top. Next add a puddle in the center of the flower and arrange the circles to form a center.
6. Then tuck (and glue if necessary) the feather behind the flower and feiern!